"A Bell of Blessing 2020 KIMHYUNJOONG"
D-22
OCT. 17. 2020. SATURDAY. 10PM
For more information, go to the website.
[Interview] Kim Hyun Joong, "I want to burn out on stage"
Kim Hyun Joong will release a new album "Moon, Sun and You Song" on Wednesday, February 5. The two phases of the music he creates are "moon" and "sun," and his listener, "Kimi," is a title that can be said to be the culmination of Kim Hyun-Joon's music. Also, BARKS interviewed him about his first album, "HENECIA MUSIC," which is the first album. He also asked about his enthusiasm and plans for a conceptual nationwide tour of this work.
  ◆ ◆ ◆
■ All emotions felt in two years are included. In
Japan, a full album has been released for the first time in about five years. So much time has passed.
Kim Hyun Joong: I haven't really felt like I've been in 5 years. I was always busy doing singles and going around the world and Japan tours, so I was surprised at how long it was going. This album contains 15 songs, but there are also many singles and their couplings since their label was established. I felt once again that I was doing so many singles, and I realized that I had been working hard for five years.
い か How about the concept of the whole album and the thought you wanted to convey?
Kim Hyun Joong: I spent two years working on this album. It took that much because I produced all the songs myself, but during that time there were really various things. I felt a lot of hardship, hard work, and hope, and this work has all the emotions I felt in those two years. After a while, I learned that people can't live with their emotions, and I want to put together the various feelings that want to give myself awareness There was also.
ど ん な What was the concept of the new song that you wrote for this album, the title song of the album "Moon, Sun and Your Song"?
Kim Hyun Joong: I think the sun and moon are things that give us something. So, when everyone feels lonely or hard, I have the thought that I will be the sun and the moon for you. It wouldn't be a sad song but a message saying, "You're not alone, I'm always next to me."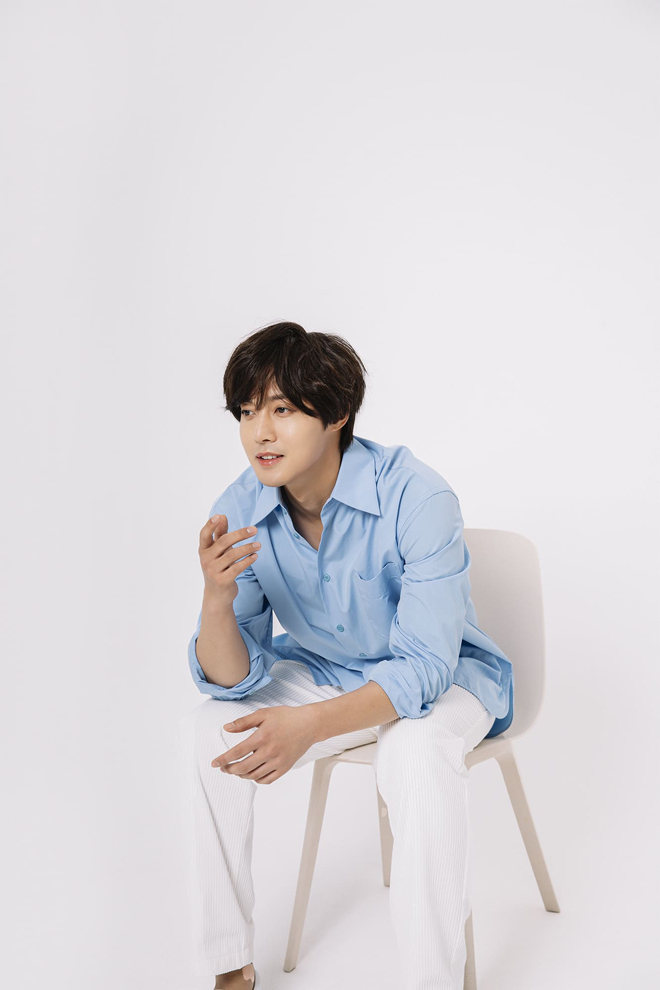 と When you read the lyrics, there are parts that seem to be singing to your fans.
Kim Hyun Joong: I think this song is really about the fans. I was particularly concerned with the rust phrase "Close your eyes I'm in your heart", and humans, of course, are also sleeping, but they close their eyes when they want to take a rest. That's why I wanted to relax and live. I'm next door, I'm your heart. Another chorus, "Close your eyes and kiss the sky", was something I noticed while writing the lyrics, but I have to lie down to kiss the sky, right? So that means "I want you to rest with ease and kiss the sky."
歌詞 The lyrics of "I will sing for you until the voice dies" felt something like Kim Hyun Jun's determination and determination.
Kim Hyun Jun: That's right. Endlessly screams endlessly !! This part also has the feeling that "I'm always near you".
は What did you notice when recording "Moon, Sun and Your Song"?
Kim Hyun Joong: I wanted to be a little calm and have a masculine nuance. Because this song can be used as a confession song and I think it would be nice to listen to it as a healing music. Since she sang "I'm together," it may be perfect for a proposal song. In recording, we aimed at singing more suited to such various situations. I use more midrange sounds than treble, so I think it's good for playing guitar and piano. I'm glad if you can cover it.
■ I want
everyone who is not my fans to listen to it. ■ The ballad "Life Without You", which was released in Korea in 2019 and resonated, was recorded in a Japanese version written by Toko Furuuchi. .
Kim Hyun Joong: This song has already been sung in Korea, and the original song sang the feelings of a man who had parted, but in this Japanese version it was a female-looking lyrics hand. Furuuchi-san expressed her feelings very carefully. Men and women will feel differently in a single romance. For example, in a Japanese novel "Between Calm and Passion", a book with two patterns of men's eyes and women's eyes has been released, and I tried to express the emotional difference in songs like that.
ど こ What was impressive about the female lyrics as seen by male Kim Hyun-Jun?
Kim Hyun Jun: Actually, when I saw these lyrics for the first time, I felt a little shy. The feelings are a little different from what I imagined, or the feelings of women are very delicate. Also, from the lyrics that Mr. Furuuchi gave me, I feel that I learned not to write on my own, but to write to others. All the lyrics I've written so far have been based on myself, but that's a lot of trouble. I feel that the content is limited only to my imagination and concept, what should I write in the future? When.
だ っ That's right.
Kim Hyun Jun: Yes. But this time, oh, you can write with this kind of interpretation. I feel that the range of lyrics is likely to expand in the future.
そ う It's your first time to sing the sad feelings of a woman, but wasn't recording a challenge?
Kim Hyun Jun: That's right. This song challenged how to sing a little naive. By the way, I was listening to a lot of songs by Japanese artist ZARD during and near the production of this album. I think she always expressed herself what she wanted to convey and the unique feelings of a woman in a song.For example, if I wrote this feeling for the representative song "Do not lose", "Take my hand" I think it will be like that. When an adult man says, "Don't lose," it sounds a bit childish, so there are expressions and messages unique to women. That was a good reference for recording, and I always get a lot of inspiration from ZARD songs.
ほ か In addition to the two songs you just talked about, this time again, it's an album full of various emotions.
Kim Hyun Joong: We've released a lot of albums so far, but I want to take care of the emotions that I feel every time I make one song. It's a full album I've worked on, but I think it's a very good one, so I'd love to hear it from non-my fans who are reading this article. The two years of Kim Hyun-Joon are included, so I felt like I had lived like this for two years and had such feelings … and I will listen with a lot of interest in the future I'm glad you gave me
そ う You seem to be particular about the different jacket pictures for the "moon" and "sun" of the album.
Kim Hyun Jun: Yes. First of all, I think the temperature of the "moon" and "sun" jackets is completely different. I wanted them to feel differently when they picked them up, so I wanted to make them feel "cold!" Or "hot!" When they touched them. Since it's been a long time since I've been working on a full album, I am very particular about the artwork and the case.
ジ ャ ケ ッ ト The front and back, and the message of one in two are also transmitted from the jacket, are you aware of any duality or gap in your personality?
Kim Hyun Jun: I'm also a human being, so I'm lonely when I'm lonely, and I'm very happy and happy when I'm happy or fun. However, the temperature difference is very large. There is no middle (laugh).
ど う How do you heal yourself when you are lonely?
Kim Hyun Joong: Listening to music alone and traveling. When you don't have much time, just looking at the various scenery and hitting the wind can change your mind. On the contrary, when it is fun, everything is very positive. We spend a lot of time actively playing scuba diving and golf.
全国 In 2020, a national tour featuring the album "Moon, the Sun and Your Song" will start in February. It is a two-track schedule of a hall tour <moon> and a live house tour <sun>, but please be eager.
Kim Hyun Joong: I want to burn out the live house performances on stage. I'd like to show my full potential so that customers may be worried that this person will die (laughs). The hall performance is based on the songs on this album, and we want to add a further arrangement to the previous songs so that we can convey a message that suits each song. We are preparing a lot, so please look forward to it.
Interview and text = Yukiko Kawakura 川
Info: https://www.barks.jp/news/?id=1000177399&fbclid=IwAR2B92QA-QkRiaeOPOgx-cX2oWn-ROIoehG_IlTlRfx5BfJD-0GpxbWaddI
New album "Moon, the Sun, and Your Song" has been released!
New album "Moon, the Sun and Your Song" to be released on February 5, 2020 has been released!
Kim Moon Hyun-Joon's compilation of a variety of music, and the album "Moon, Sun, and Your Song" is a full-packed album of the continuing world of music.
The moon and the sun are set in specially processed sleeves, and from this jacket, you can also feel the world of "Moon, the Sun and Your Song", and pursue Kim Hyun Joong's commitment to every corner. Design.
Please enjoy it!
Info: https://henecia.jp/news
We are looking for 2020 HENECIA
Hello Hentians,
Hyunjung.com.
Are you doing well?
We're starting a new year in 2020.
Please see below for details.
1.Recruitment Period: December 16, 2019 13:00 (KST) ~ December 24, 2019 18:00 (KST)
2. Membership fee: Domestic / ₩ 30,000KRW
Overseas / ₩40,000 (Different due to membership card overseas shipping)
3. How to pay the membership fee 
– paying credit card 
-Payment without bankbook (If you sign up with bankbook payment, the nickname and depositor name registered on My Page must be the same)
** All fees related to remittance (exchange fee, remittance fee, receipt fee, etc.) are at your own expense.
4. Membership Period: 2020.01.01 ~ 2020.12
Venezia Fan Club Benefits 
 1. Provide a Henezia membership card with a unique number 
2. Provide video and photo contents that only members can see 
3. Possible to pre-purchase tickets for performances and goods from Henezia Goods
4. Send Happy Birthday Song Message Email 
: This is a new song from last year.
5. Chat room available to talk with artists
6. Alarm voice MP3 file (5 versions) provided
: You can download it from the official website.
7. Whenever the season changes in spring, summer, autumn, and winter, we provide artist images for mobile wallpaper
: You can download it from the official website.
 * Email and address information is collected as the member information on the homepage.
 -For domestic and foreign residents: Please check your home address, email address, and name on My Page. 
 -For overseas residents: Please write your home address, email address, and name in English to receive smooth card delivery and happy birthday.
 * Membership cards will be sent sequentially starting in January 2020. (For overseas residents, the delivery may be delayed.
* Happy Birthday song will be sent on 2020 birthday.
 Thank you.
INFO: https://hyun-joong.com/
New update on Hyunjoong's ameblo account – 「THIS IS LOVE」はまだまだ続く 
#THISISLOVE continues…the MV will be broadcast on TBS Kaiun Music Hall on 21Sep (Sat) 4:15 am💚😘
Cr: @Princessmich 123
Nico Raw MC's Hoshino and Pasari
Please support "THIS IS LOVE".! !
TBS TV "Hirobi!"
September 21 (Sat) Asa 4:15 am at TBS Kaiun Music Hall
MV for "THIS IS LOVE" will be aired 📺
Cl